FestaBrew
FESTA BREW
FestaBrew is a 23L beer kit made of premium pasteurized ready-to-use all-grain brewers wort. With popular beer styles to choose from, these kits bring great results while keeping it easy to make!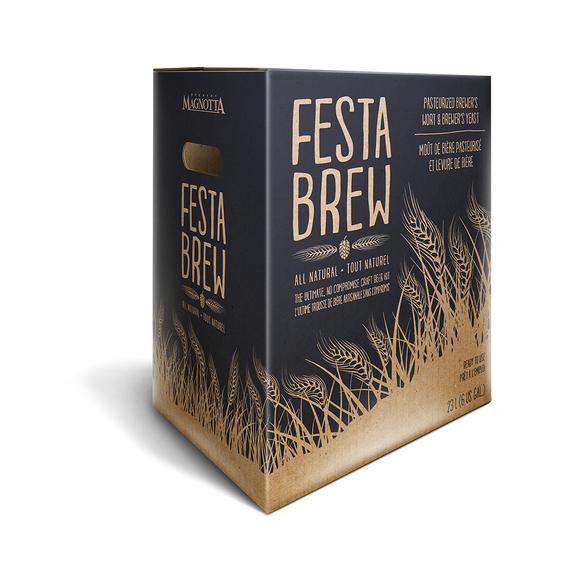 BROWN ALE:
A traditional, medium-bodied English-style Brown Ale. Pleasantly roasted, mid-bodied malt profile with low hop flavour and aroma and moderate hop bitterness. Slight yeast-derived fruitiness.
IBU: 15
CREAM ALE:
A medium-bodied, slightly fruity, North American ale-style. Deep golden colour with a delicate hop aroma and flavour. A smooth and easy drinking beer style.
IBU: 13
PALE ALE:
A deep golden coloured hoppy, fruity English-style pale ale. Presents pleasant flavours and aromas of fresh finishing hops, which balance well with a bready malt profile and moderate body.
IBU: 25
WEST COAST INDIAN PALE ALE:
A strong, North American-style India Pale Ale with a pronounced malt character and abundant hop flavours and aromas. This wort has a flavour profile that is second to none in the realm of homebrewing and u-brewing. Deep gold in colour, this craft brewed classic will please even the most discerning ale aficionado.
IBU: 42
BOCK:
A classic dark, malty, strong German-style bock beer. Genuine lager yeast ensures adherence to style. High original gravity. Finishes moderately sweet with a stronger, warming alcohol content.
IBU: 15
DRY LAGER:
A premium version of North American-style dry lager. All malt; no adjuncts. Very light straw colour and light-bodied. Low hop bitterness, no hope flavour or aroma. Crisp finish with lowered caloric value.
IBU: 9
BLONDE LAGER:
A yellow coloured, crisp beer with a genuine lager yeast. This is a true all-malt lager brewed with no adjuncts. The yeast provided will ferment well at 9-15 C but will provide good lager characteristics up to 24 C.
IBU: 11
CONTINENTAL PILSNER:
A balanced, well rounded, golden European-style lager with a noticeable hop profile and all-malt character.
IBU: 23
DOUBLE OATMEAL STOUT:
An opaque, full-bodied ebony ale. Moderate to high hop bitterness combines well with a pleasant roast malt character, subtle malt sweetness and slight hop flavour. The addition of two types of oats leads to a creamy, robust mouth-feel and full texture.
IBU: 28
WHEAT:
A clean North American-style wheat beer. Light straw colour and low hop bitterness. Refreshing and thirst quenching.
IBU: 9
Festa Brew kits can be found on the online catalogue HERE